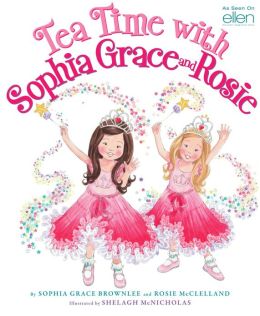 From You Tube sensation to Ellen Show regulars ... and now their own picture book. Yes, the tutu-clad British cousins known as Sophia Grace and Rosie have most definitely arrived. How long will their 15 minutes last? Who knows, but regardless, many Ellen regulars will be purchasing this cute PB for the little girls in their lives.
Sweetly illustrated by Shelagh McNicholas, TEA TIME WITH SOPHIA GRACE AND ROSIE (Scholastic, Feb 2013) tells the story of the girls' plan to host a tea party, but each want to invite the person they love most in the world... and craft invitations, decorate and plan a menu ... slipping a surprise invitation under each other's pillow the night before the party.
Princess-wanna-be's who love watching these girls sing and prance online or on the Ellen Show will be just as charmed by this book as they are by the girls' rendition of Super Bass.
In Arthur A. Levine's latest, the mystery of the tooth fairy is presented from the point of view of a curious little bear named Zach. With illustrations by Sarah S. Brannen, THE VERY BEARY TOOTH FAIRY (Scholastic, Feb 2013) touches on the scary part of the Tooth Fairy and what exactly that means. As a bear, Zach has been taught to stay away from people, but when he overhears a child at a campsite talking about the Tooth Fairy and his loose tooth, Zach wonders if that means a human tooth fairy will come to visit when his own loose tooth falls out.
A bit freaked out by this, he asks his friends, his mother, and his sister, but no one seems to help. Later, he tucks his tooth under his pillow and is surprised to find a very special visitor who comes to allay his fears.
It's a sweet book, and I love that it addresses the fears of special, secret visitors like the Tooth Fairy, Santa and the Easter bunny -- which have exciting elements of both fear and fun in them. This is a nice way of showing that even brave bears can get scared sometimes, and that family is always there to make things better.
*Both books were generously given as review copy ARCS -- and are much appreciated early reads!