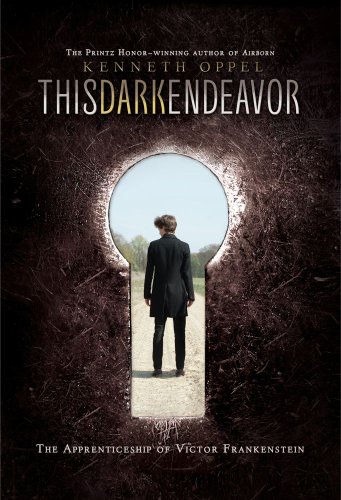 What created the man who created the ultimate monster? Kenneth Oppell explores this question in THIS DARK ENDEAVOR (Brilliance Audio, 2011) which takes place in the early years before the Mary Shelley classic.
Victor and his brother Konrad are more than identical twins, they are kindred souls. Sure, they disagree a lot, have very different personalities, and are driven towards exceedingly different lives, but despite all that, Victor sees Konrad as irrevocably connected to him.
So when Konrad falls ill with a mysterious disease, Victor steals into the forbidden dark library in search of the Elixir of Life, a potion he is sure will save his brother's life. With best friend Henry and live-in distant cousin Elizabeth by his side, Victor begins a dangerous quest to obtain the elements necessary to create the elixir.
But can he trust the wheelchair-bound alchemist, the only known person to have previously created the potion? And what about his growing feelings for the beautiful and daring Elizabeth -- feelings he knows his brother shares?
Kenneth Oppell (known for his Silverwing series) creates a viscerally gothic thriller, mingling magic and science ... and the expanse between. You don't have to be a fan of Mary Shelley to enjoy this intriguing look into the backstory surrounding her flawed hero's dangerous obsession. And we know exactly where it leads.
If you like THIS DARK ENDEAVOR, be sure to pick up the second book in the series, SUCH WICKED INTENT (Simon & Schuster Books for Young Readers, August, 2012).