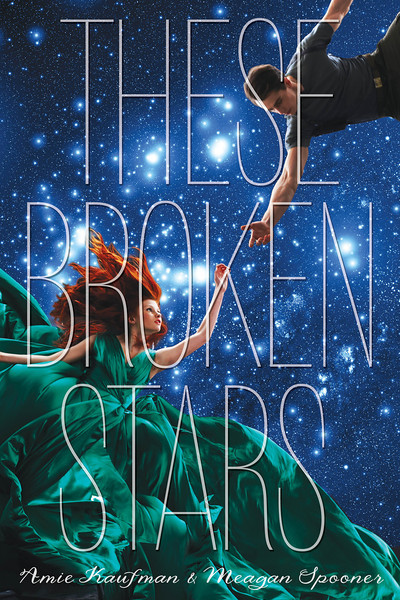 You're the richest girl in the galaxy. Like, the actual galaxy. Your daddy has built an empire prepping planets that can only be reached by star ship and light speed for habitation. Travel between these worlds on space ships big enough to hold a city (think Wall-E) is commonplace. Think you might be JUST a tad spoiled?
Lilac LaRoux isn't the typical rich girl everyone thinks she is, but this privileged heiress is about to find out just how easy she's always had things.
In
THESE BROKEN STARS
(Hyperion, hardback/Listening Library, audiobook, both 2013), co-authors Amie Kaufman and Meagan Spooner create a futuristic world that's easy to picture. At first, they populate it with two-dimensional characters who would be right at home in 1985, 2014 or a thousand years in the future. Mean girls will be mean girls, after all. Then Lilac meets Tarver Merendsen, a war hero celebrity who approaches her in the Icarus's dining room.
Lilac isn't sure what to think about this guy who doesn't seem to know who she is, but if her father gets wind of Tarver's flirtations, Lilac knows exactly what it will mean for Tarver. She's doing him a favor by refusing his advances. But when some kind of malfunction yanks the Icarus out of light speed too soon, she and Tarver are the only ones of the 50,000 aboard to survive the ensuing catastrophic disaster.
Both the Icarus and their escape pod crash-lands on the nearest planet — which seems to be completely uninhabited. (Or is it? Hmmmmm.)
Survival means working together. Putting aside their differences. And traveling across the expanse of planet in search of a way off. Not surprisingly, romance blossoms and soon, the two aren't sure if they want to go home at all. Especially after they discover the secrets hidden away on this abandoned planet — secrets no one was ever supposed to find.
YA science fiction in the vein of THE LUNAR CHRONICLES, this first book in The Starbound Trilogy uses alternate first person POV, sprinkled with short inserts of Tarver's post-story interrogation. The combination keeps the suspense taut. While the relationship tension gets annoying at times, and the ultimate acceptance of romance is obvious from the start, the story is intriguing and the twists are numerous.
Companion books are set to follow. The trilogy will definitely appeal to fans of Marie Lu, Marissa Meyer, and Jodi Meadows.